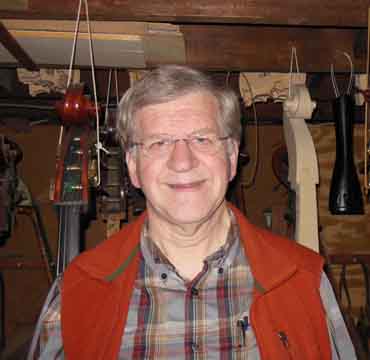 Workshops - Info and tool lists
Research - Acoustics and Misc
Jay VandeKopple has a bass shop in Midland Park, in Northern New Jersey. He began his musical double bass studies in Grand Rapids at the age of 10, performed in orchestras and summer festivals in Michigan and other states, and later became Principal Bass in the Grand Rapids Symphony.
He moved to New Jersey, where he and bassist Linda McKnight married. He earned a Ph.D. in Mathematics (with a thesis related to musical acoustics), a Masters in Computer Science, and taught college math and CS for 35 years before retiring. An accomplished bassist, he actively performs in orchestras and chamber music groups throughout the NY/NJ area.
Starting in the late 1970's Jay began studying bass repair under Joseph Cilecek of Hastings, NY, and set up a part-time bass shop. He later studied under Karl Roy at the UNH Violin Craftsmanship Institute. He has also benefitted greatly from advice from Arnold Schnitzer and other bass luthiers. He retired from teaching at Marymount College of Fordham University in 2007, and now dedicates his time to his shop.
Jay had been President of the Catgut Acoustical Society at the time of its merger with the VSA (Violin Society of America) in 2004, and continues as Chair of the CAS Forum and as a member of the VSA Board. Jay is Director of the VSA/Oberlin Bass Workshop and on the faculty of the UNH Summer Violin Craftsmanship Institure.